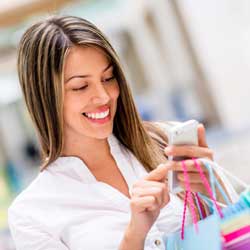 Mobile ads are an amazing way to reach your on-the-go audience. Using mobile ads will put your message right in front of people, on their Smartphones or tablets, as they go about their day. It doesn't matter if you're a performance-based marketer or still building your brand, mobile is a vital part of any company's marketing mix.
Research has shown that over 90% of the people in the US goes between mobile and desktop throughout their day to accomplish their goals. Here are a few tips to make your mobile campaigns succeed:
1. Use Geo-Targeting – one of the great things about mobile is the ability to use precise Geo-targeting for a campaign. Even if you are a national or international brand, sending a targeted message to a mobile audience can increase lift, conversions, and brand recognition. Combining time-of-day targeting in addition to location targeting can also boost campaign performance exponentially. For example: Subway could show a New England Clam Chowder soup ad in areas within the Northeast right before lunch time in the winter. In sunny Florida however, they might want to show ads for chicken during lunch. The possibilities are endless for any type of business.
2. Give a Clear Call to Action – With mobiles, you have a lot less room to display information. Make sure that both your creative and landing pages have clear calls to action for the user. If you're looking for the user to call a number, make sure to test the click-to-call feature in both iOS and Android. If you want to have the user fill in a form, try and reduce your input fields to the minimum needed to complete a lead. Also, consider splitting up a lead form to multiple pages with the most important fields early on in the process.
3. Make Your Landing Pages Mobile Optimized – Make sure your entire landing page flow is mobile optimized. This includes all pages that are linked to your landing page including privacy policies, terms and conditions, etc. You never want any jarring experiences for users on a mobile phone. Test your pages on multiple platforms to ensure everything displays correctly. Make sure no pages have any Adobe Flash components or very advanced CSS or HTML5.
Mobile can be a powerful marketing tool when handled correctly. Just remember to always take into account the limitations of mobile phones, and optimize the experience completely.