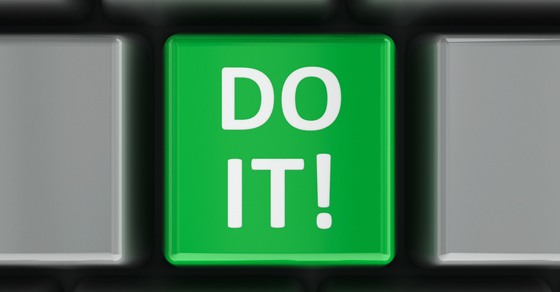 When designing your landing pages, emails, banners, etc., getting the user to perform an action is the most important objective for your page. You might be asking them to register for an email list, make a purchase, download an app, request a demo, or visit a website.  Whatever your goals, here are a few tips to get your users to perform whatever action you're looking for:
Call to Action Format – You can use either text or an image to get a click.  Most of the time a button is the best format.  The button shape should usually be a rectangle, possibly with rounded corners.  It should be obvious to the user where they need to click to perform your desired action.  Make sure the call to action stands out from the background.
Copy – The copy of your message should engage the user and incite them to act.  It should support your call to action.
Location – English readers read left to right and up and down.  When you include your call to action, try and put it on the bottom right corner.  Make sure its above the fold and clearly visible.
Size – You'll want your call to action to be large without being too overpowering to the rest of the design.  Your text should be clear and easy to read.  If you're marketing to an older demographic,  take into account that they might not have perfect reading vision and adjust the site's font-sizes accordingly.
Language – Stick to simple language that a 5th grader can read.   Try to be as clear as possible on why they should click and how it will benefit them.
Color – Try and create a design with high contrasts and plenty of white space. Your call to action should pop out of the page and be very clear.
Multiple Call to Actions – If you are working on a landing page, you might try and repeat your call to action multiple times on a page.  You can also try a combination of embedded text links within your copy and buttons.
Optimized for Mobile – If there is a possibility that your call to action will be viewed on a mobile phone, make sure its optimized for multiple screen sizes.
Test – Make sure you do some A/B testing with your designs to optimize its performance.