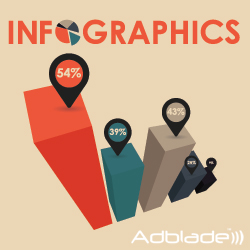 Creating infographics has become a very common strategy for companies that are implementing a content marketing strategy. They can be a powerful tool that can display data in a simple to understand manner. If done correctly, they have the power to go viral across the web and get you a good amount of social traffic to your site. Here are a few things to consider before you get started on creating your first infographic.
1. Always start with your target audience – When you're thinking of ideas for infographic topics, always consider your target audience for your product or service. It's great to have an infographic go viral, but if it doesn't touch your target audience and doesn't lead to sales, what's the point?
2. Make sure your data is legit – An infographic that uses statistics that are inaccurate or boring is a bad one. An amazing infographic will be well researched and contains original data that makes an impact to its viewers.
3. Make it pretty – Remember, the difference between an infographic and a boring PowerPoint presentation is all in the design. It should be impactful and impressive. Don't be afraid to make it long with lots of data. Designing a great infographic takes a long time, so work with a professional designer that understands your vision and had designed infographics in the past.
4. Make sure it's readable at smaller sizes – Sites like Facebook and Twitter, sometimes, only show a small image preview of a photo within a post. Try and make sure that your infographic is high contrast and easy to read at a glance even when it's small in size. Make the headline clear and big.
5. Include your logo and URL – This one seems obvious, but I've seen countless infographics that don't contain a logo or a URL. Remember, once your infographic is loose on the Internet, you have no control on how it will appear. Including a URL will, at least, bring a percentage of the viewers to your website.
6. Spread the word – Use all the social channels you participate in, and also consider using content-style ads to help drive in traffic to your initial launch.